The Great Consummation – Genesis 9:1-7
And God blessed Noah and his sons and said to them, "Be fruitful and multiply and fill the earth. The fear of you and the dread of you shall be upon every beast of the earth and upon every bird of the heavens, upon everything that creeps on the ground and all the fish of the sea. Into your hand they are delivered. Every moving thing that lives shall be food for you. And as I gave you the green plants, I give you everything. But you shall not eat flesh with its life, that is, its blood. And for your lifeblood I will require a reckoning: from every beast I will require it and from man. From his fellow man I will require a reckoning for the life of man.

"Whoever sheds the blood of man,
by man shall his blood be shed,
for God made man in his own image.

And you, be fruitful and multiply, increase greatly on the earth and multiply in it."
Genesis 9:1-7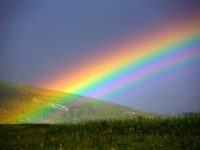 Following the flood there is a reiteration of the commands to humans in Genesis 1, as well as some reworking of the poetry. The differences draw out some of the themes we have already explored.
Genesis 1
Genesis 9

And God said to them,

"Be fruitful and multiply and fill the earth and

subdue it

, and have dominion over the fish of the sea and over the birds of the heavens and over every living thing that moves on the earth."

And God blessed Noah and his sons and said to them,

"Be fruitful and multiply and fill the earth.

The fear of you and the dread of you

shall be upon every beast of the earth and upon every bird of the heavens, upon everything that creeps on the ground and all the fish of the sea."

And God said, "Behold, I have given you every plant yielding seed that is on the face of all the earth, and every tree with seed in its fruit.

You shall have them for food."

"And

as I gave you the green plants, I give you everything.

"
In the fallen world, the gift of Creation to the humans has changed. Now the men and women can kill animals for food and this will lead to those same animals fearing the humans. Of course, we have already seen the slaughter of animals before, first in the Garden of Eden when God covers Adam and Eve in skins and then a chapter later when Abel offers a meat sacrifice to YHWH. But now the death of animals will become widespread.
The author of Genesis 9 also reworks the poetry of Genesis 1 to add to the messianic theme that was established early on in the creation myth.
Genesis 1
Genesis 9

So God created man in his own image,
in the image of God he created him;
male and female he created them.

Whoever sheds the blood of man,
by man shall his blood be shed,
for God made man in his own image.
The key uniting point here is the representation of the key theological point that humans are made in the image of God. We should be reminded at this point of the binaries that we saw all the way through the first few chapters (in particular the man – God and male – female double binary) and we are presented with a new binary here. In verse 5 YHWH warns very clearly that he will demand the life of a human who takes the life of another ("From his fellow man I will require a reckoning for the life of man."). In the poetry of verse 6 however the one who will shed blood in response to a murder is not YHWH but another human. This is an interesting use of the human – God binary, man and the divine performing the same function in response to death.