Christmas Tree Decorations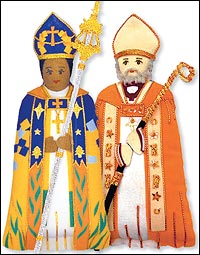 Aren't these just the best thing for hanging on the tree? Who wants to buy me one?
The top-ranking clergymen in the Church of England will be hanging on Christmas trees all across the realm this year. The gift and souvenir company St Nicolas has produced miniature versions of Archbishop of Canterbury Rowan Williams and Archbishop of York John Sentamu to be used as Yuletide decorations. As the image at right indicates, the resemblance is imaginary slight.