Together, We Discovered Mercy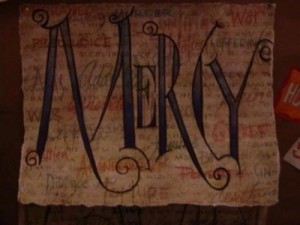 Some beautiful words from Andy Comiskey.
30-years ago, 'Living Waters' surfaced in West Hollywood. The burning ground of lust and sexual confusion became a pool of God's mercy.

Every Wednesday night for two years, we met in the home of a well-known interior designer. Charlie, along with many of his friends, was riding the first popular wave of gay activity on the West Coast. But after the disco and drug-induced orgies, these men and women cried out for mercy.

The Vineyard Christian Fellowship had just sprung up on the west-side of town. Annette and I began to date while attending that church. At the urging of our pastor, who introduced us to Charlie, we began to gather in his home—worshipping Jesus with simple songs, exploring the truth of Jesus' good will and purpose for the sexually-broken, and praying for each other.

God's healing presence became greater than our shame and addictions.

Together, we discovered mercy: the transforming power of Jesus loosed through the advocacy of His community.

As He did to the Samaritan woman, Jesus met each one with 'living water'. He challenged our defenses and fear of real intimacy. He freed us to confess our sin, the truth that in grasping after others we had forsaken Him, the spring of living water, and had dug our own wells, broken wells unable to hold water. (Jer. 2:13)

He began to heal us; we agreed with Him that we were valuable men and women whom He had created to contain and manifest His goodness. We were vessels of honor who He taught to honor one another genuinely, with our clothes on, our hearts intent on growing into maturity. Annette and I married after the first year of this group, and many in our large wedding party were its members.

We did not know in 1980 that the HIV virus was prowling through parties and discos, seeking to devour the unrestrained. AIDS had no name then; it succeeded to destroy many, including Charlie. He died with dignity: sober, sanctified, ready for home.

God wanted mercy, not judgment. (James 2:13) He takes no pleasure in the death of anyone (Ez. 18: 32), and so He liberated 'living water' from the desert ground of a people intent on their own destruction.

He suffered and died to lay claim to that desert. He rose again to transform that desert into a place of life, health, and peace for them.

Living Waters is the essence of Christ Crucified and Raised—the river that makes all things new. 'Where that river flows, everything shall live…' (Ex. 47:9)

What a privilege to gather in West Hollywood at the onset of Desert Stream Ministries and what became the Living Waters program. What a privilege to be one of Jesus' answers to the cry for mercy.

'The poor and needy search for water, but there is none; their tongues are parched with thirst. But I the Lord will answer them; I, the God of Israel will not forsake them. I will make rivers flow on barren heights, and springs within valleys. I will turn the desert into pools of water, and the parched ground into springs.'

(Is. 41:17, 18)
Good stuff and a great response to the kind of approach that Kelvin has taken this afternoon.
I don't understand how the archbishop can believe gay Anglicans to be free to feel, do or act towards anyone else when he, the Archbishop advocates that gay people choose between ministry or human intimacy. That is what the official policy of his church is. What rights does he have to impose restraint?
Let's not go down the route of outlining the reasons to impose such restraint; there's an even more basic flaw in this argument and its the false dichotomy that Kelvin is presenting, as I have argued before.
But it doesn't stop there argues Mills. Because we have made heterosexual desire of the leading, if not the prime factor for getting married, we then make the logical jump to assume that if one doesn't have heterosexual desire one shouldn't get married, or one should at least seek to nurture heterosexual desire before one does get married. "Gay men can't get married" is what we implicitly say, they're not capable of it because they aren't attracted to women. "Well let us marry each other then", comes the reply, and when conservatives respond with cries of "Oh no, that won't do" then we are rightly criticised (again) for having one moral standard for ourselves (life-long union on the basis of sexual desire) and one for another (the denial of life-long union on the basis of sexual desire).

It wasn't always like this argues Mills. In the past "homosexual" men have married women, loved them, raised families and generally got on fine. The reason they could do this was because they didn't live in a society that obsessed about sexual identity. There wasn't gay or straight, there were only men and women. Men got married to women and had children with them, because that's what everybody did. They may not, from a 21st century perspective, have particularly fancied their wives, but then many of the "straight" men around them weren't in that situation either. It's not that they didn't sexually desire them, it's just that they didn't obsess sexually about them day and night.

Here's what Mills wants us to understand:

Of course, in defending the validity of marriage for "homosexuals", I do not have in mind men who are having venery with men whilst also being married. That is as wrong as committing adultery with women. When I argue that "homosexuals" may marry, I have in mind men whose veneral desires remain entirely or mostly focussed on men yet who have never become involved in venery with other men, or who have succesfully settled (one day at a time) into refraining from such venery … I don't think a man lacks that capacity for marriage and family life merely because his sexualness, if liberated, would drive him towards venery with all attractive men, rather than with all attractive women. Such a man has no reason to fear that the love and meaning he and his wife have in their marriage is actually bogus. And no one else has any reason or right to deem his marriage bogus either.
Let me suggest that such an approach completely undermines the idea that those with a same-sex sexual attraction cannot have intimacy with someone of the other sex. Take myself for example. Since I'm sure Kelvin and others wouldn't want to suggest that my wife and I are simply lying and being deceitful when we profess to having a loving relationship (in the same way that I wouldn't dream of denying the reality that may gay friends who are in partnerships do love their partners), how does he handle the fact that I am open about the change in my orientation? If they deny that my orientation has changed then they pronounce me a gay man happily married to a woman, which cheerfully demonstrates the fallacy of the position that the Church's teaching denies gay men the chance of intimacy. If on the other hand they accept what I say, that I have genuinely seen a profound shift in my sexual orientation then why do they spend so much time bewailing those who claim to be able to help men and women achieve such a change? Surely it must be one or the other (and let's not have any of this "you were always bisexual" nonsense – trust me, I was exclusively homosexual).
Is the problem with all this that we impose artificial prescriptions on humans ("gay" and "straight" and in-between) when a truly Biblical anthropology doesn't distinguish or validate humans in such a manner? Isn't it time we started talking about sex and relationships within a Biblical, not a secular framework? My experience is that the kind of groups that Andy Comiskey writes about above have in some sense done that, that they have laid their broken, fallen humanity in front of the cross and let Christ tell them who they are and what his desires for their intimacy is, rather than letting a non-Biblical idea of personhood dictate their lives.
Thoughts?