More on SMitF and Same-Sex Blessings
On Wednesday I highlighted a blog post from Changing Attitude that claimed that same-sex blessings have taken place at St Martin in the Fields.
They happen in many churches in the Diocese of London including St Martin in the Fields which conducts the public blessing of lesbian and gay relationships with the formal consent of the PCC. The Bishop of London has been informed of this practice. Fees are charged, sent to the diocese saying they are for the blessing of a civil partnership, and are banked by the diocese.
In the light of these allegations, I found a very interesting sermon preached by Nick Holtam, then Vicar of St Martin in the Fields and now Bishop of Salisbury, which puts a slightly different light on the matter.
A Dictionary of Liturgy and Worship says that, "A blessing is an authoritative declaration of divine favour". That's where I am less than certain. The problem is authority. Bishops and priests bless with authority, the authority of the Church, the authority of God. Deacons and lay people do not. This matter of authority sometimes makes for absurdity. The former Bishop of Carlisle blessed a nuclear submarine. I have blessed homes, new toilets and a new bridge across the River Thames but I am not allowed to bless a couple who love each other and promise to live together faithfully to the end of their days if they are of the same sex.

The form of service agreed by the Church of England when people come to church after a Civil Marriage is not a Blessing but 'A Service of Prayer and Dedication'. What most people who want this service ask for is a blessing of their marriage, and I think they ask right. A few years ago we used this confusion of language to help us when Adam and Tony, much loved members of our congregation, asked for a service of Blessing after their Civil Partnership. What happened was 'A Service of Prayer and Dedication after a Civil Partnership'. I was on holiday but St Martin's supported in great number, the sky did not fall in or the ground open up, and I received no complaints. I have no doubt God blessed them but the Church of England is at best ambivalent about same sex relationships and for the time being declines to give its full authority by blessing them, and authority does matter.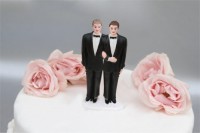 It strikes me that Nick Holtam is saying very clearly here that whilst services of thanksgiving after a Civil Partnership do take place at St Martin's, they do not include a blessing within them. Indeed, the point Holtam is making is that as much as he would like to conduct such a blessing, he will not do so until he is legally permitted to do so.
If that is so, and if the services that are conducted at St Martin in the Fields do not contain a blessing, then what is Changing Attitude claiming? It appears that Nick Holtam denies the allegations that Changing Attitude has made. Certainly, the two positions are contradictory and either Changing Attitude is claiming something occurs that does not actually or Nick Holtam was being disingenuous when he preached this sermon in March 2010. Holtam's elevation to purple has been partly predicated on the fact that he is not the kind of man to stir things up by going against church law and this sermon seems to suggest as much. For Changing Attitude to suggest otherwise is a dangerous line to take, unless they are actually right, in which case Nick Holtam has questions to answer.