2014 – The Anglicans to Watch
Following on from last year, here's my top ten Anglicans who I believe will have an impact on the Church of England in 2014 (and beyond). For some it may be for things that will happen over the next twelve months that will involve them, for others it's about their ongoing "rise".
Bubbling Under
Before we start the top ten, it's just worth mentioning a few names I considered but didn't include in the final list.
Rt Revd Keith Sinclair – The Bishop of Birkenhead's "minority report" on the Pilling Commission was an impressive demonstration of theological acumen and missional critique. He has fastidiously refused to comment any further on it, but we might see more from him in 2014 on this subject.
Revd Arun Arora – In our top ten last year and still bubbling under this year, Arun has taken the Communications Department at Church House through some dramatic changes this year.
Right Revd Tony Robinson – The Chair of the Society of Saint Wildred and Saint Hilda, the Bishop of Pontefract is one of the leading anglo-catholics in the country. The Society isn't going away and Women Bishops is just going to make the divisions in the Church more obvious.
Revd Paul Perkin – His speech at GAFCON Nairobi was incredibly well received and if things go badly very quickly (see number 6 on the list) you will see a lot more of this leading light in the Anglican Mission in England.
Number 10 – Rt Revd Tim Dakin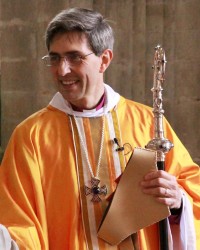 Rumour has it 2014 is not going to be a good year for the Bishop of Winchester. A fast rise to one of the key episcopal positions in the land was undermined by the trouble in Jersey in 2013. One pastoral inquiry, two reports (one of which is currently suppressed to great consternation) and then an Arch-Episcopal visitation are not the signs of a healthy pastoral relationship. It could be that very early in the New Year Guernsey and Jersey will be removed from the Diocese of Winchester altogether in preparation for the creation of a new diocese of the Channel Islands in 2015.
Add on top of that the sudden departure of Stephen Collyer, the Director of Finance & Assistant Diocesan Secretary, and an almost half a million pounds black-hole in the annual budget (partly due to the withdrawal of funds from the Channel Islands) and things are not looking that great in Hampshire. On the upside, Dakin ran a particularly successful Mission Conference for the Diocese and Winchester boasts within its boundaries some great examples of large and growing successful churches (for example Christ Church in Winchester).
It's been a rocky first few years since Dakin was installed as the Diocesan, and he inherited in Jersey a legal disaster just waiting to happen with separate Canons and a deeply independent establishment on both islands. If Dakin can move on from mistakes made and problems inherited, he has the possibility of being a key leader in the Church of England, especially as a conservative he will not be happy with some of the suggestions in Pilling.
Number 9 – Colin Coward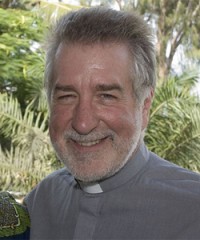 Oh dear. How the less than mighty have fallen. Last year's number three is this year's number nine and he barely made it into out list at all. Colin has been increasingly grumpy over the past few months, disappointed by how Pilling didn't deliver anything near what he wanted. It's an open secret that he got told off by Sir Joseph Pilling during his presentation to the Committee on Human Sexuality and he's put quite a few people in the middle ground off by his constant insistence that the traditional position on human sexuality is intrinsically homophobic and irredeemable. How not to win friends and influence people.
It's hard to be part of a facilitated listening process when it seems that every thread on your Facebook page descends into calls of bigotry and homophobia against your opponents. Last year I said that 2013 was Colin's to make or break and unfortunately for him it seems to be the latter. Changing Attitude might still have a role to play in the debates that are to happen in the Church of England, but if so they are going to have to learn better ways of dealing with the likes of the Living Out team than name-calling and dismissive arrogant public positions.
Number 8 – The Lambeth Palace Press Team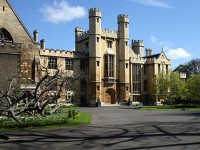 One of the first things Justin Welby did on being appointed Archbishop was begin to move into place a team he could work with and who he trusted to understand how Lambeth Palace needed to interact with the wider world in the 21st Century. A major appointment was Ailsa Anderson as his Director of Communications, formerly Communications and Press Secretary to The Queen and a key player in making the occupiers of Buckingham Palace much more amenable to the public. As well as Ailsa he has also pinched Ed Thornton from the Church Times as his press officer and the new digital communications manager Chris Cox is also impressive, working behind the scenes to bring the Archbishop into the social media world.
Little touches like inviting leading bloggers to the annual media reception in the Palace show that the communications team understand exactly how modern journalism works (indeed it was one of Justin's first actions to get this done) and whilst there is still some hesitancy about how and when (if at all) the Archbishop should engage and interact on Twitter, the whole impression is of a move in the right direction. With Ailsa in Lambeth Palace and Arun Arora making even more changes over the river at Church House, the Church of England is in safe hands when it comes to communications.
Number 7 – Revd Dr Lee Gatiss
In our list for the second year running, Lee has completed his doctorate since this time last year and taken Church Society from strength to strength.
The way he responded to the Women Bishop's debate this year in comparison to other conservatives demonstrated yet again that he understands how to operate in today's media savvy environment. A quiet but determined man, watch his contributions to the debate over Women Bishops, human sexuality and other key issues with interest.
Number 6 – Very Revd Dr Jeffrey John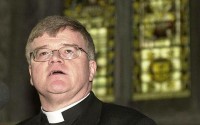 Why is Jeffrey in our top ten? Quite simply, with a huge number of Diocesan Bishoprics up for grabs over the next 12 months and with the House of Bishops indicating very clearly that being a celibate homosexual (even if you're in a Civil Partnership) is no bar to wearing purple, will 2014 be the year that the Dean of St Albans moves one more rung up the ladder?
Not without controversy, Dean John has been mentioned as on the short-list for Exeter this year, and the debacle over his nomination for Southwark in 2008 is now well know. That event led to Dr John threatening to sue the Church of England for discrimination, but conversations in quiet corners soon sent that idea packing.
If Jeffrey does get nominated for a Diocesan post (and nothing less than that will do for him) then expect the fireworks to start flying. It will make the fuss over his elevation and then demotion in Reading look like a walk in the park.
Number 5 – Very Revd Vivienne Faull
In some senses Vivienne is exactly where we put here last year (number five) but in another regard she is moving rapidly towards landing one on the Church of England's coveted top jobs. As one of the eight female representatives on the House of Bishops she is now sitting with the boys with the power and given that the path towards Women Bishops appears to be pretty well clear for 2014, our prediction last year that she would be one of the first, if not the first, women bishops is looking better and better month by month. As I wrote last year, Vivienne stands out as a well-loved and highly regarded and appreciated candidate across the theological spectrum (unlike the more divisive figures like June Osborne, Christine Hardman or Judith Maltby) for the highest office.
"My Lady, Bishop Faull of Derby" has a certain ring to it don't you think?
Number 4 – Revd Sean Doherty, Revd Sam Allberry, Ed Shaw
Three people for one slot again I hear you ask? Why yes, why not? Sean, Sam and Ed are the team behind Living Out, the new project designed to look at issues of human sexuality from a conservative perspective. What is the most remarkable thing about Living Out is not the great variety of personal testimonies from different experiences but rather the large number of endorsements from across the Evangelical spectrum.
What Living Out represents is a shift in the centre of gravity for conservatives talking about issues of human sexuality. For too long the debate has been dominated by "white straight males" on the Evangelical side. OK, Sean, Sam and Ed are white and male but they bring a refreshing voice to the discussion as finally homosexual evangelicals who take a conservative position are speaking out and being heard.
As the post-Pilling Church of England moves into a discernment process on these issues, any diocese that avoids having voices like these as part of the discussion are going to find themselves with questions to answer. For too long "GLBT Anglican voices" has meant a particular liberal position. No more is that the case.
Number 3 – Rt Revd Nigel Stock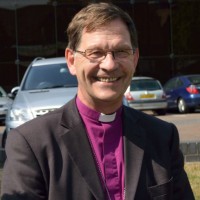 The restoration of the position of "Bishop in Lambeth" by Justin Welby has shown that the Archbishop of Canterbury is serious about creating a team around him to get the job done. Before moving to the South Bank Nigel was Bishop of St Edmonsbury and Ipswich, one of the most rural of all dioceses, and he understands the pressures of keeping the Church of England going in a society where church attendance is collapsing.
Already he's made himself a bit of a reputation as a fixer (or is that a yes man?). Appointed as one of the Archbishop's representatives to the Channel Islands to try and sort out the mess the Bishop of Winchester has got himself into, first impressions were that Nigel was not a man to be messed around with. Whether that will be a strength or a weakness remains to be seen.
Expect to the see the Bishop at Lambeth more and more in the news this year as he works as Justin's XO.
Number 2 – Most Rev Eliud Wabukala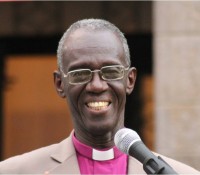 The Archbishop of Kenya makes our number two slot, despite not being a member of the Church of England. He is however the Chair of GAFCON and in that position may have an important influence over the Church of England for the next few years. Certainly, the Archbishop of Canterbury thought the Nairobi GAFCON conference was so important he made a specific journey over to Africa to speak personally, having already prepared a video address.
The dark forces of schism are hovering over the horizon in England and Eliud has made it more than clear that he sees the Pilling Report as "very flawed" and will not stand by if the more dramatic of the recommendations are implemented. His passion for saving "the historic Mother Church of the Communion" is not to be under-estimated and he represents a growing willingness to engage in border-crossing into the very heartland of Anglicanism itself.
Expect statements out of Kenya to be taken very seriously in Lambeth Palace in 2014. The "sleeping giant of Anglican orthodoxy" as Wabukala himself described the Anglican Global South movement is waking up and in a battle for the soul of England there may come a time when no prisoners are taken.
Number 1 – Most Revd Justin Welby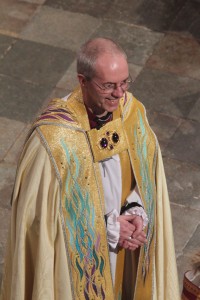 He's charismatic, he can render the veteran BBC Journalist John Humphrys lost for words (no mean feat), he's got the coolest middle name of the whole House of Bishops; 2013 was a pretty good year for Justin Portal Welby. Propelled from relative obscurity, the man who only two and a half years years ago was Dean of Liverpool Cathedral is now the Metropolitan of the Church of England with the weight of the Anglican world on his shoulders.
He's already begun a quick-fire tour of the provinces of the Communion and there'll be more of that over the next few months. He's fast to learn and adapt to environment (note how he completely changed his sermon in Kenya during the GAFCON meeting from one service to the next) and he has the kind of self-deprecating humour that endears him to most folks he meets. On top of that he has the respect of his peers (literally) in Parliament where as a driving force on the Parliamentary Commission on Banking Standards he has helped to frame crucial legislation that will be moving forward this year.
There are however pitfalls ahead for Welby. Women Bishops is not through yet and attempts to put off the human sexuality debate for a few years ("facilitated conversation" is a wonderful thing) may be torpedoed if Jeffrey John gets a Bishopric. On top of that the House of Bishops still haven't sorted out how they're going to handle same-sex marriage and when it does guess who will get the public approbation for it? At some point the honeymoon has to end.
Turbulent priest? The next 12 months may be rocky but we'll get to see what kind of man Justin is when times start getting rough.
Yes, I know there are only two women on the list and only four unordained folks. The point of the list is to point out people who will make or shape the news in 2014 – the fact they all happen to be men or ordained is irrelevant. Last year's list was more balanced but it just so happens that this year's list isn't. And for those complaining about "celebrity culture" most of the people on this list aren't celebrities. That's the whole point.