Thou Shalt Steal After All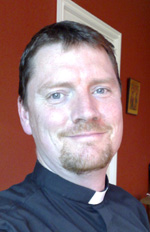 Dear me. Father Tim has got himself into a bit of a pickle hasn't he?
A priest from North Yorkshire has advised his congregation to shoplift if they find themselves in hard times.

Father Tim Jones, the parish priest of St Lawrence and St Hilda in York, said people should steal from big chains rather than small businesses.

He said society's attitude to those in need "leaves some people little option but crime".

However the Archdeacon of York said: "The Church of England does not advise anyone to shoplift".

North Yorkshire Police described the sermon as "highly irresponsible".
I have some sympathy for Tim (OK, I'm behind him all the way actually) when he states that those who condemn desperate people for stealing a loaf of bread as they walk home with their Go-Go Hamsters should really examine their conscience. And there is the fantastic point that a society that lets people get into this situation should ask itself how it can defend this neglect of people on the margins.
But to suggest the answer is shoplifting? I wouldn't go that far, especially with a Saviour who's response to sin is not just "I forgive you" but also "go and sin no more".
Thoughts?