Submit!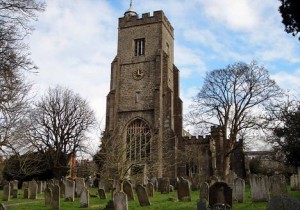 Bit of a stir being caused this afternoon by this story in the papers.
In a leaflet issued to parishoners, the Rev Angus MacLeay used passages in the Bible to justify women playing a submissive role in local church life. He urged women to "submit to their husbands in everything".

Mr MacLeay, a member of the General Synod, is opposed to the appointment of women bishops. He has campaigned vociferously for Reform, an Evangelical group that seeks to reform the Church of England "according to the Holy Scriptures".

The leaflet he issued It says at one point: "Wives are to submit to their husbands in everything in recognition of the fact that husbands are head of the family as Christ is head of the church.

"This is the way God has ordered their relationships with each other and Christian marriage cannot function well without it."

In a section called `More difficult passages to consider', it continues:

"It would seem that women should remain silent….if their questions could legitimately be answered by their husbands at home."

In a sermon days later, his curate, the Rev Mark Oden, a married father-of-three, built on the argument, sparking further controversy.

He told his congregation at St Nicholas Church, Sevenoaks, Kent, that the behaviour of modern women was to blame for Britain's high divorce rate.

He said: "We know marriage is not working. We only need to look at figures – one in four children have divorced parents.

"Wives, submit to your own husbands."

The views of Mr MacLeay and his curate are understood to have prompted dozens of women parishioners to cancel their direct debit subscriptions to St Nicholas's.

One disenchanted female parishioner said she was "disgusted" by the sermon.

"How can they talk that way in the 21st century?" she said. "No wonder the Church is losing touch if this is the kind of gobbledegook they want us to believe it.

"I will not be going back to that church and will have to seriously consider my faith if this is the nonsense they are spouting now."

Another woman, who also asked to remain anonymous, said: "We're supposed to let out husbands talk for us and remain silent?

"What kind of medieval sermon is that? We are not in the 15th Century. I have already cancelled by direct debit to the church."

The rector was unavailable for comment.

Mr Oden said: "I did not set out to unnecessarily offend people, but I stand by what God has said in his word, The Bible. "I am passionate about helping people
Cue the usual round of "misogynistic fundamentalist" criticism from liberals and to be fair, the way it's been reported you can't blame them can you?
The issue of submission is an interesting one. The Bible lays out examples of godly submission, especially in Ephesians 5 which reads:
Submit to one another out of reverence for Christ. Wives, submit to your husbands as to the Lord. For the husband is the head of the wife as Christ is the head of the church, his body, of which he is the Saviour. Now as the church submits to Christ, so also wives should submit to their husbands in everything.  Husbands, love your wives, just as Christ loved the church and gave himself up for her to make her holy, cleansing her by the washing with water through the word, and to present her to himself as a radiant church, without stain or wrinkle or any other blemish, but holy and blameless.
Eph 5:21-27
There's some obvious things to note here. Firstly, the primary command is for all to submit to all out of reverence for Christ.  Paul then goes on to give an example from marriage, but he does it in the context of Christological teaching, so the main theme of the passage is to bring the readers back to Jesus. The mutual submission is to do with signifying what Christ has done.
When Gayle and I got married she insisted on saying "love, honour and obey" during our vows, based on the theology of this passage. Now before anybody accuses her of being an ignorant oppressed victim of a mediaeval mindset, remember that this is a woman who has a double first and doctorate from one of the world's top universities. Gayle is not a woman to be easily led, but because she knew the theology behind the vows she was happy to say the words "obey". And you know what, that made me go and examine again Ephesians 5 and to come to realise that in this submission business husbands have the harder deal. That's because the Bible says very clearly that Christian husbands are called to love their wives in the same way as Christ loves the church, laying his very self down for her. Jesus went to his death for the church, so Paul's argument is that husbands need to bend over backwards to love their wives. That means that they need to put their wives' needs first before theirs and such behaviour is the path of submission that echoes ans signifies the work of Christ.
The passage in 1 Peter 2 and 3 builds on the same themes. Peter uses the example of a wife married to an unbelieving husband to show how submission is about echoing the sacrifice of Christ (see 1 Peter 2:21-25 then 1 Peter 3:1-4). And indeed, that's the point that Mark Oden makes in his sermon, a sermon which is handily online and available to listen to. Just click play below.
[audio:http://www.stnicholas-sevenoaks.org/mp3/2010/2010-01-31-am-1-peter-3v1-6-marriage-and-women-mark-oden.mp3]
As a piece of exegesis Oden's sermon isn't a bad job. It fails though I think as a piece of pastoral preaching in that since it is not part of a complete series on 1 Peter, the context of the preceding examination of the nature of sacrifice and submission as being a signification of the work of Christ is not explored properly. That means that the sermon comes across as just being about wives submitting rather then exploring the whole issue of mutual submission and how that works out with specific individuals and situations. It might be interesting to hear the promised sermon on the next part of 1 Peter 3 the following week, but unfortunately that isn't up on the website yet.
What is available is the leaflet, and that can be found on the Reform website. The controversial sections are as follows:
When it comes to roles within the church family, the same pattern of relationships applies. Because of the order and purpose of their creation, men are to have leadership responsibilities that women do not share. It is not appropriate for a woman to teach or have authority over men (1 Tim 2:11-13) although it is entirely appropriate for a woman to teach and train other women (Titus 2:3-5). In fact, there is a role here that is uniquely theirs, as while men can teach the Bible to women, they cannot always model it in practice.

The areas needing to be modelled effectively constitute three different spheres of life – the first involves relationships within the family, the second involves purity and self-control and the third involves the whole area of work. Men are needed to model to other men what it means to be godly in these areas but only women can model to women what it means to be godly women. The complementarity of men and women in ministry is therefore as important as it is for husbands and wives in marriage, as each needs the other to do their part. Only then will the people of God be properly pastored by the Word of God.
Most scholars agree that 1 Timothy 2 is dealing with a particular context of Ephesus and is connected to the false doctrines and controversies of 1 Tim 1. And this theme of false teaching and deception continues in 1 Tim 2 with the idea that Eve was deceived by the serpent. So we have a context of specific false teaching within which Paul calls for a unity of prayer and worship (1 Tim 2:1-8) and the handles specific outworkings of the false teaching that was in Ephesus.
What was that false teaching? One idea was that there was a glorification of Eve amongst some of the believers (understandable in a culture that had mass goddess worship), and that would make sense of verses 12 to 15 of 1 Timothy 2. If the gnostic cult of Eve was distorting the teaching of Genesis 1 to 3, then Paul sets about putting it back in order. He points Timothy to the promise that the seed of the woman (not Eve herself) would provide salvation to God's people (Gen 3:15, 1 Tim 2:15) and he reaffirms the fact that Eve was the one who initially chose to sin (a number of the gnostic sects believed that Adam was the one that initially took the fruit and ate it). If this is what the problem was, then 1 Tim 2:12 can be read as a response to the gnostic teachings ("Tell those gnostic women to shut up") and not as a catch all for all time ("Tell all women to shut up").
Once again, context and translation is everything when we turn to the "More Difficult Passages to Consider". Take for example 1 Corinthians 14:34 – "women should remain silent in the churches. They are not allowed to speak, but must be in submission, as the Law says.". The word silent here is "sigao" in the Greek, and that does not necessarily mean "absolute silence". Time and time again in Scripture it is used in the context of "waiting for a better moment" or "holding one's peace!", eg Luke 9:36 and in 1 Cor 14 itself verses 28 and 30. And that's before you consider the argument (supported by many conservative scholars) that verses 34 and 35 might not even be in the right place and are therefore being read entirely out of context.
One final thing. The quote that reads "No wonder the Church is losing touch if this is the kind of gobbledegook they want us to believe it. I will not be going back to that church and will have to seriously consider my faith if this is the nonsense they are spouting now.", strikes me as being from someone who doesn't attend St Nicholas. If not, why would they say "that church" and "they are spouting"? Strikes me as though the Telegraph or Mail journalist has walked down the high street and just got some vox pops in response to the most controversial part of the story. But then context seems to be the theme of this whole issue.
Thoughts?
Podcast: Play in new window | Download
Subscribe: RSS