Back to Church Sunday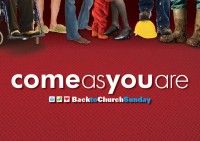 From the Revd Peter Ould
The edge of St Albans Diocese
Canterbury Province
Dear Church of England Media Team,
I am delighted that you have produced a radio advert for Back to Church Sunday. Let's pass over the fact that you haven't written to any churches specifically telling them that this was happening to allow us to co-ordinate local publicity efforts with your national campaign. No, instead I want to raise an issue with your radio advert. Have a listen, and tell me the word that's missing which is actually the whole point of Church.
[audio:https://www.peter-ould.net/wp-content/uploads/BackToChurchSundayRadioAd_2010.mp3]
Shall I give you a clue? His name starts with a J.
At the moment, all you've got is a very good advert for the local coffee house.
Very Sincerely,
Peter+