Antiphons- Hidden Meanings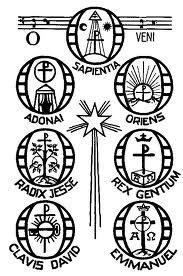 Pure genius from Maggi Dawn.
In each of the O Antiphons there has been the plea to God: Come…

Does God answer our prayers? Look backwards at them in reverse order:

O Emmanuel
O Rex
O Oriens

O Clavis
O Radix
O Adonai
O Sapientia

The capital letters (which in medieval texts were, of course illuminated) spell ERO CRAS, which in Latin means 'Tomorrow I will come!". Often when we pray we feel somehow that it's a one-way conversation; our words disappearing into oblivion, as we hope (and sometimes doubt) that God hears us. Hidden in the O Antiphons is the indication that God not only hears, but is in dialogue with us. Advent is a period of waiting, but even as we wait his answer is hinted at in a hidden and inaudible whisper: Tomorrow, I will come.

When we pray, hope, doubt, wonder whether it's worth it, whether God will ever hear us or act on our behalf, we can remember this Advent principle. The answer is in the future, in the Maranatha, yes. But the answer is already promised. Before you look forward for the answer to prayer, look backwards to the waiting. Somewhere, hidden in your conversation wth God, even though it feels like a monologue, there is the whisper of an answer.