Stephen Green Exposed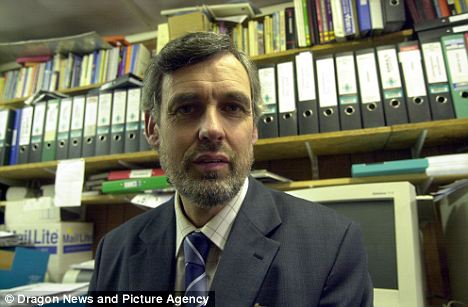 Not that we want to commend the Daily Mail as a paragon of impartial journalistic integrity, but well done today for exposing the monster that is Stephen Green.
Caroline Green was often punished by her husband Stephen for failing to be a dutiful, compliant wife, but his final act of violence against her — the one that prompted her long-overdue decision to divorce him — was all the more chilling because it was coldly premeditated.

Stephen Green wrote a list of his wife's ­failings then described the weapon he would make to beat her with.

'He told me he'd make a piece of wood into a sort of witch's broom and hit me with it, which he did,' she recalls, her voice tentative and quiet. 'He hit me until I bled. I was terrified. I can still remember the pain.

'Stephen listed my misdemeanours: I was disrespectful and disobedient; I wasn't loving or submissive enough and I was undermining him. He also said I wasn't giving him his ­conjugal rights.

'He even framed our marriage vows — he always put particular emphasis on my promise to obey him — and hung them over our bed. He believed there was no such thing as marital rape and for years I'd been reluctant to have sex with him, but he said it was my duty and was angry if I refused him.

'But the beating was the last straw. It ­convinced me I had to divorce him.'
With my pastoral hat on, here's what Green needs to do. Repent.
Repent Stephen. Confess your sin to an Almighty and forgiving God and throw yourself on his mercy. It doesn't matter one bit if you are spot on when you talk about homosexuality (and for the sake of clarity, I do not believe Stephen Green is correct), if you have not love you are just a resounding gong. Repent and then take a very long sabbatical to reflect on what God is calling you to do next. If you humble yourself in front of him he WILL restore you and use you, but it has to be on his terms, not yours.
Update
Botherer has some brilliant comment on the relationship between the Daily Mail and Stephen Green.
But most interesting is the Mail's relationship with the man. Their latest story describes Green as a "monster", a "fundamentalist." The article goes on to note,

"Stephen was immersed in Christian Voice, which allowed him the autonomy and freedom to express his increasingly bizarre views unchallenged. As its founder and director, he was answerable to no one."

And just who was it who was letting Green's views go unchallenged?

Well, take for example this article about student stunt marriages that appeared in a newspaper just fifteen days ago:

"The students' wedding was condemned by Stephen Green, national director of Christian Voice, an organisation that represents Christians."

The story then goes on to quote Green at length, without editorial comment. And which paper is it who let this extremist monster go unchallenged? That would be the Daily Mail.

Two weeks ago he was a man who "represents Christians". The same paper that today explains that his views were already becoming extreme and unrepresentative in 1992. But their relationship goes back much further.