Jones and Yarhouse's ExGay Study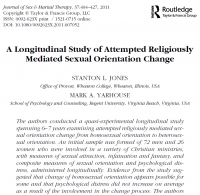 The latest results from Yarhouse and Jones' ExGay Study have been published in the Journal of Sex and Marital Therapy and are accompanied by a brand new website allowing for greater interaction with the authors.
The response has been typical. Box Turtle Bulletin (normally a place where one expects a modicum of rigour in their analysis) have essentially ignored any attempt to read the academic paper itself and instead launched into a polemic of straw men and bad science. The usual criticisms are levelled – that the "poor success rate" (23% reported some degree of movement in their sexual orientation, characterised by defining their position on the Kinsey scale) is sign that ex-gay therapy doesn't work rather misses the point that similar success rates in other areas of psycho-analytics are routinely accepted as evidence that a therapy works for some people. On top of that, probably the most significant outcome that Jones and Yarhouse record is that there is little evidence that ExGay therapy produces long-term psychological harm, even amongst those for whom it isn't succesful.
Let's take a closer look at the actual paper, rather then the straw-men. The authors recorded attraction, infatuation and fantasy using the Kinsey scale. For all three markers there was a noticeable shift in the average values recorded across the populations.
These are important findings. They show that whether it is actual orientation change or change in sexual identity, on average those who exit an ExGay programme report that they are "less gay" (for want of a crude expression) then when they entered. However, none of these trends when comparing the two phases proved to be statistically significant to the extent that the authors could state for certain that this effect (reducing Kinsey ratings across three categories) would always be repeated in similar studies. What this means is that although the research observed empirical evidence that the people studied, on average, reduced their self-reported Kinsey values after going through ExGay Therapy, there is not enough data yet available to argue that such therapy would be expected to always produce such a result.
Jones and Yarhouse summarised their findings as follows,
Our first hypothesis was that sexual orientation is changeable. If change is taken to mean a reduction in homosexual attraction and an increase in heterosexual attraction, we found evidence that successful change of sexual orientation occurred for some individuals concurrent with involvement in the religiously mediated change methods of Exodus Ministries (23% of the T6 sample by qualitative self-categorization). Those who report a successful heterosexual adjustment regard themselves as having changed their sexual orientation. For conventionally religious persons, a reduction in homosexual attraction and stable behavioral chastity as reported by 30% of the T6 sample may also be regarded as a successful outcome. Those who report chastity regard themselves as having reestablished their sexual identities to be defined in some way other than by their homosexual attractions. No data emerging from this study suggest that this is a maladaptive or unsustainable outcome.

Phase 1 participants, those inducted into the study early in their change venture, appear to be disproportionately represented among the more negative qualitative outcomes and had more modest quantitative outcomes. This may indicate that positive outcomes for those first initiating the change process are likely less positive than the overall findings of this study would suggest, that the change process is difficult and requires extraordinary persistence to attain success, or other possibilities. There were, however, some Phase 1 participants in all qualitative outcome categories.
We need to remind ourselves that "successful heterosexual adjustment" is not defined as becoming "100% straight" (which is the straw-man that BTB and others wish to attack), but rather is moving to a position where the individual feels capable of comfortably operating within a heterosexual relationship. Critics might bandy around the language of "bisexuality", but this shift is often (as the authors identify) far more to do with sexual identity and in particular a sense of being released from needing to identify as "gay". This post-gay perspective is exactly what I've been writing about here for a number of years. The authors continue,
In light of the role of attributions and meaning in sexual identity labeling, is it possible as well that some of what is reported in this study as change of orientation (i.e., the outcomes experienced by the Success: Conversion participants) is more accurately understood as change in sexual identity? An interesting observation about this data is that most of the change that was reported on the self-report measures occurred early in the change attempt. Our previous report (Jones & Yarhouse, 2007) indicated that this change most commonly occurred between T1 and T2, and that the shift that occurred was sustained through T3. The present data suggest such change can be sustained through T6 for those who report successful change. These findings go against the common argument that change of orientation is gradual and occurs over an extended period of time. Some may see these results as reflecting not a change in sexual orientation for most participants who reported such change, but rather a change in sexual identity. Such a change might result from how one thinks of oneself and labels one's sexual preferences (i.e., attributions and meaning making). It is also possible, though, that this data reflects persons who experienced a change in orientation and a change in sexual identity. In some individuals, a shift in sexual identity might subsequently be consolidated as true shift in sexual orientation. The Kinsey measures of sexual attraction and sexual fantasy would seem to measure some of the fundamental dimensions of sexual orientation. The shifts reported appear to be consolidated and sustained over time for those who reported a successful outcome at T6. It certainly appears from this data that the process of change is complex and multifaceted.
It strikes me that if those implacably opposed to the idea of sexual orientation and identity change want to critique this research, they need to do better than just set-up straw-men that the authors have already themselves rejected, Rather, they should engage further with the actual paper itself and the hard results, and in particular the emphasised hypothesis above that orientation change may be a subsequent effect to identity change, an hypothesis that challenges the common assumption that sexual desire is biologically innate and cannot be altered. As this research shows, it has now been empirically recorded that such sexual desire can and does change in some individuals over time, especially when they place themselves in environments that support such a journey.