Holiness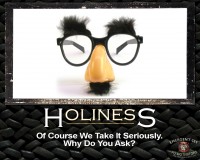 As I get back into the flow of working (a bit) for a church here in Canterbury (SMB as it happens), I've started preaching again. Here's an offering from the start of the month.
[audio:https://www.peter-ould.net/wp-content/uploads/sermons/holiness.mp3]
Apparently I was paid the greatest compliment by one of the students who, and I quote, "Didn't pick up her phone, text with it or generally fiddle around like she normally does, for the whole 50 minutes". I think that's good…
Here are the slides to go with the sermon.
[gview file="https://www.peter-ould.net/wp-content/uploads/120603-Sermon-on-Holiness.ppt"]
Podcast: Play in new window | Download
Subscribe: RSS