Review – Ezra, Nehemiah and Esther for Everyone
I've been asked to become a regular reviewer of books for SPCK in 2013. This is therefore the first of a series of posts doing just that! In order to stay on focus for the blog I'm going to stick to books about ethical issues, general theology and general "Anglicanism", not least so I won't be swamped by having 20+ tomes to read every four weeks. Here we go…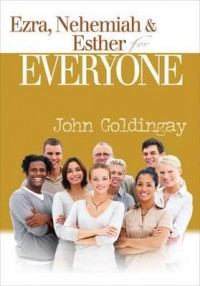 Most of you will be familiar with the New Testament series of commentaries, authored exclusively by Tom Wright, which provide easy and accessible tours of the Gospels and Epistles. SPCK has however also been publishing Old Testament Commentaries to go alongside these and one of the latest is John Goldingay's volume on the Captivity / Post-Exilic historical books, Ezra, Nehemiah and Esther.
The general feel of the series is a homiletic style response to each section, drawing out the major theological (though not necessarily exegetical) themes and providing a small amount of application. In that sense the "for Everyone" series pitches itself somewhere in between IVP's Tyndale and Bible Speaks Today offerings – insight into the text but no great academic research or engagement with other positions. That means it's a fantastic accompaniment to a private  devotional pattern, small group bible study or the first few outings of a new preacher, but it really won't get you very far if you want to engage with the deeper academic issues involved in these books.
As regards the content, it's all very good. There's enough historical context to allow the reader to understand the environment that the Scriptures are both written in and relate to and Goldingay works hard to help you see the overall theological framework that Ezra and Nehemiah (in particular) are working within. Some of the contemporary illustrations might be too American for some British readers, but there's nothing that doesn't really work.
Probably one of the strengths of the book, and the series as a whole, is its availability on Kindle for those wanting to cut down their paper usage. In this regard SPCK are providing a great service and it would be very easy to build up a whole devotional library like this on your e-reader.
Do Buy if… you want an accessible and useful short introduction to these three books or a contemplative aide to your devotional reading pattern
Don't Buy if… you want a deep critical academic engagement with the original language text
8 out of 10
[amazon_enhanced asin="0664233821″ container="" container_class="" price="All" background_color="FFFFFF" link_color="000000″ text_color="0000FF" /]