Be Faithful!
Starting to wish that I was able to make it into London today, as the line-up for the UK launch of the Fellowship of Confessing Anglicans looks really good.
Doors will open at 0930. (Tickets may be still obtained at the door). An exhibition with stands from a number of organizations and societies will be open.

At 10.00 the doors of the main hall will open and Stuart Townend  and the Band Phatfish will be playing worship music for congregational participation from 10.20.

The main programme will start at 10.30 a.m. with worship, a Bible Reading from Rev Paul Perkin and a testimony from Dr Chik Kaw Tan, who spoke so powerfully in the debate at General Synod on the Uniqueness of Christ.

The morning programme will focus on the global Anglican Communion. There will be welcome messages from the Archbishops of Uganda, Rwanda and Kenya. Speakers will focus on different parts of the Communion and the recent issues with which our brothers and sisters have had to contend.  Archbishop Greg Venables of the Southern Cone, Bishop Keith Ackerman, president of Forward in Faith (North America), Archbishop Peter Jensen, Archbishop of Sydney, and Baroness Caroline Cox will be among the speakers. They will be followed by a filmed interview with Canon Dr James Packer from Canada. Others taking part will be Canon Ben Enwuchola,  Bishop John Broadhurst  (Fulham) and Bishop John Hind (Chichester).

There will be a lunch break from 1 p.m. to 2 p.m.

In the afternoon Rev Vaughan Roberts (St Ebbe's Oxford) and Canon Vinay Samuel (India) will address us on the challenges of mission in a society of aggressive secularism and Bishop Wallace Benn will expound the biblical understanding of fellowship from Philippians.

We will then focus on opportunities and challenges for mission in the British Isles with film and interviews from around England, Ireland, Scotland and Wales, as well as presentations in the hall. These will focus on mission, ministry, stewardship, fellowship and oversight.  A single DVD containing these filmed interviews, the interview with Dr Packer, and Highlights from the Global Anglican Future Conference in Jerusalem will be available on sale for £1.00.

The day will conclude with Bishop Michael Nazir Ali preaching and presiding at the Communion Service to end by 5.30 p.m.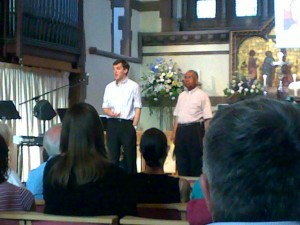 Not bad at all, and getting Phatfish to play is a major coup.
I heard Vinay Samuel speak last night at All Saints Woodford Wells where he outlined how FCA is not about homosexuality or splitting the church, but rather is about how orthodox Anglican churches around the world can share in mission and evangelism. He gave the example of some of the homeless outreach workers from the Falls Church, Truro, went to meet Vinay's team in Bangalore. They discovered that in India the first question the workers ask a homeless person isn't, "Have you got somewhere to stay tonight" or "How can we help find you a job" but rather it's "Do you have a family?" For the Indian church the most important thing with homeless people is not to feed them or find them a job, but to help mend their broken relationships.Why? Because that's what the Gospel is about – mending broken relationships, chief of which is our relationship with God.
And this is why I think FCA is so exciting, because while liberals just make pathetic insulting racist jokes about comparing worshipping Christians with Nazis, the orthodox Church is getting on with saving souls. More power to the FCA – I think they might just be onto something.