Murdering Little Boys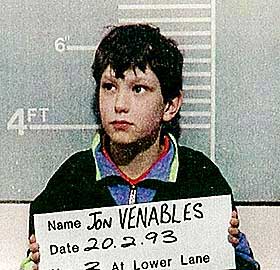 Here in the UK the news has been dominated by reports that Jon Venables, one of the two boys who murdered toddler Jamie Bulger in 1993, has been returned to jail after breaching the terms of his licence. Watching Question Time last night, there was a significant portion of the audience literally baying for his blood.
By all accounts, what Venables and Thompson did to Jamie Bulger was horrific. They led him away from his mother, subjected him to atrocious torture and then finally killed him. After almost a decade in jail following a trial where they were public enemies numbers one and two, Venables and Thompson were released with new identities to begin new lives. Venables' parole hearing indicated that the man being allowed out back into public was not the same little boy who had been locked up in the first place. Obviously between then and now something has gone horribly wrong.
Of course, what is most likely is that something had gone horribly wrong way before the horrific events of 1993, because for two boys to set out to do to a toddler what Thompson and Venables did to Bulger (though by all accounts Thompson was very much the lead in the events of that afternoon), there must have been something that happened in their lives previously which had so desensitised them to aggression and abuse that they were prepared to do such violent things to a very young child.
Who then are the victims here? Well firstly Jamie Bulger and his family and their friends. His parents will have to carry their grief and sorrow with them always, and by all accounts from the news reports, their anger as well. Nothing can now bring their son back. In secular terms, nothing can in any way "make it better".
But there are other victims here. Jon Venables and Robert Thompson have to live with the knowledge of what they have done for the rest of their days. Years in Youth Offenders' Institutes will not have been kind to them – having worked in such places I know as others do that as much as the prison officers and other staff try to help the inmates, they are ultimately brutal, clinical places. While their public prison sentence has now been served, the private bondage of having to move on after having performed such an evil act will be with them for decades to come. Even after going to jail they were the victims of "institutional vengeance" as Lord Donaldson described it, when Michael Howard (then Home Secretary) increased their minimum tariff to 15 years after a newspaper petition. This was later overturned under the new Labour Government, and both boys (now men) were released under a life licence. Still they needed to assume new identities as the lynch-mob mentality of some in our society would mean their lives would be in danger if anyone found out who they really were.
Venables and Thompson were damaged children, are now very likely damaged men, so it comes as no surprise to me that at least one of them is back behind bars. If the news reports are true, Venables has been involved in seeking out child pornography and this is one of the reasons why he is now in jail again awaiting trial. Of the few men that I've spoken to / pastored who have been in the same situation, I have found one common strand, that of them being little boys in adult bodies. I've also found very interesting discussing these issues with those attracted sexually to children that very often the age of the children they are attracted to is strongly linked to the age in their own lives when either something traumatic occurred, or a previous trauma suddenly "became present". It does not therefore come as any shock to me that (if the reports are true) Venables has been found with such material. It is less a sign that he is a disgusting individual and more an indication that he is the victim of a disgusting world.
And if that is true, it is not time to start advocating murdering little boys, even if they now find themselves in adult bodies. While some may want to drive in the nails, as Christians our response to Venables should be different, to seek resurrection and redemption rather than vengeance and punishment. The Scriptures tell us that the problem with living in a fallen world is that as much as we are guilty sinners we are also innocent victims. As the prophetic imagery of Isaiah 53 tells us:
He was despised and rejected by men,
a man of sorrows, and familiar with suffering.
Like one from whom men hide their faces
he was despised, and we esteemed him not.

Surely he took up our infirmities
and carried our sorrows,
yet we considered him stricken by God,
smitten by him, and afflicted.

But he was pierced for our transgressions,
he was crushed for our iniquities;
the punishment that brought us peace was upon him,
and by his wounds we are healed.
If the original passover lambs on that night of the slaying of the first born were the substitutes for anybody, they were the substitutes of the victim Israelites. In the same way, Christ offers himself as a willing sacrifice, taking upon himself our wounds, our history, our tragedies, and in doing that he performs a supernatural transference, as much exchanging his wholeness for our brokenness as he does his perfection for our sinfulness. This is the good news, that no matter what we have done and what has been done to us, the moment that "the vilest offender truly believes", he or she receives a pardon and healing from Jesus. It is good news that can be literally experienced – Christ comes into our past and redeems and reshapes our present and future. We become changed human being, set free from the bondage of the past and unleashed to enjoy the future.
As this story unfolds over the next few weeks and months, let's all remember that one child has already died in this tragic chain of events. Pray that Venables would not be the next victim and that instead he, and Thompson, Jamie Bulger's family, and all those baying for blood would find comfort and forgiveness and healing in the place of the most instrumental murder of all time.
Yet it was the LORD's will to crush him and cause him to suffer,
and though the LORD makes his life a guilt offering,
he will see his offspring and prolong his days,
and the will of the LORD will prosper in his hand.

After the suffering of his soul,
he will see the light of life and be satisfied;
by his knowledge my righteous servant will justify many,
and he will bear their iniquities.

Therefore I will give him a portion among the great,
and he will divide the spoils with the strong,
because he poured out his life unto death,
and was numbered with the transgressors.
For he bore the sin of many,
and made intercession for the transgressors.
Amen to that.