Christian New Media Conference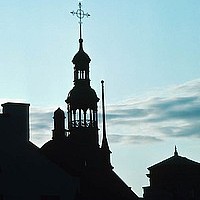 Not a lot of blogging this week I'm afraid as I'm preparing a paper for the Christian New Media Conference this weekend. I'll be starting to open up some issues around ecclesiology on the web, particularly in the areas of authority and inclusion. I'll post the paper at the weekend, together with a bunch of supporting material.
Apologies therefore for the lack of content. If you're coming to London on Saturday for the Conference, I'll see you there. If you haven't yet got your ticket, here's the details.
Sat 16 Oct 2010, 09:30am – 5:00pm

Oliver Thompson Lecture Theatre, City University, London

With just one week until the first Christian New Media Conference book your tickets now to make sure you don't miss out.

Spend a day with expert practitioners as they share with you the skills and knowledge you need to know to make an impact online.

The conference is made up of main sessions covering topics of interest to everyone and break-out seminars focussing on specific subjects, including a dedicated theological stream.

ACTION
CONTENT
KNOWLEDGE

THEOLOGY

1st Breakout
choose from:
Making the
Most of Email
in a Local Church
Writing great
content
Introduction to
the Digital
Environment
Homo
Connectivus 1
2nd Breakout
choose from:
How to do
digital mission
Getting the
most out of
Facebook &
Twitter
Get the
website you
need & want
Homo
Connectivus 2
3rd Breakout
choose from:
Reaching young
people through
New Media
How to get
Podcasting
Getting people
to find your
site
Short
Papers 1
4th Breakout
choose from:
Fundraising
Online
How to make
and distribute
a Viral Video
New Media
Legal Master
Class
Short
Papers 2

We are pleased to announce that the Early Bird Booking discount has been extended so, so be sure to book your tickets at only £25.00 each as places are strictly limited!