Review – Faith and the Creeds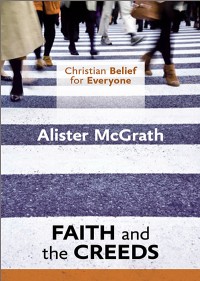 I like Alister McGrath.
There, I've said it. It's not that he was Principal whilst I was at Wycliffe Hall a decade ago and it isn't that he was my lecturer on Doctrine during that time, the course that I enjoyed the most. It's not that he wrote an awesome book debunking Dawkins and it isn't that he is the only man I know who literally chops out his entire day into six minute blocks in order to get everything done (try having lunch with him in college – it's like a military operation). No, it's none of those things.
So why do I like McGrath? It's simply because he's so eminently readable and makes sometimes complicated subjects incredibly accessible. Faith and the Creeds is the first in a new series "Christian Belief for Everyone" (picking up on the "for everyone" theme made popular by Tom Wright's Commentary series) which promises a set of short but meaty books on the basics of Christianity. And meaty is the right word, because in a little over 100 pages McGrath gives us plenty to chew on as he takes us through the basics of how corporate faith is articulated in language, how the ecumenical creeds (particularly the Nicene) came about and their use in collective liturgical life.
If you're expecting a line by line exposition of the text of the creeds then you are going to be disappointed for that is not McGrath's purpose here (for that kind of approach read his I Believe on the Apostle's Creed). Rather McGrath writes in the style of C S Lewis exploring the deeper themes of the Creeds as the lens through which to reinterpret the fallen world we inhabit. Reading and believing the Creeds (and letting their truths shape our decisions) McGrath argues is an exercise of corporate faith, a collective experience of belief that guards against the dangers of relativist individualism. The Creeds are not shackles constraining thought but rather foundations providing liberating security for the journey of faith that Christians engage on.
Faith and the Creeds is the kind of book for which you want to put the logs on the fire, pour a large Scotch and settle into your favourite comfy chair to enjoy. You can read it in a little over an hour, but you will plumb its depths for months to come. I can't wait for the next four books in the series.
Do Buy if… you want a quick but deep introduction into what confessions of faith are all about
Don't Buy if… you most often say "I don't do theology, I just do Jesus"
9 out of 10
[amazon_enhanced asin="0851108911″ container="" container_class="" price="All" background_color="FFFFFF" link_color="000000″ text_color="0000FF" /]