Civil Partnerships and the Proposed Changes
I've been asked by an Anglican organisation to provide a summary of the proposed changes in the law and their possible implications. Here's what I've produced, but if you have any suggestions please let me know.
Civil Partnerships and the Church of England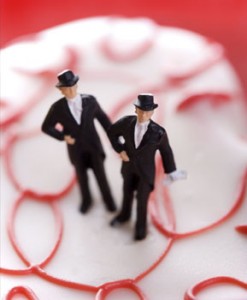 Civil Partnerships were introduced in the UK in 2005. The Civil Partnership Act ("the Act") allows two people to register a Partnership as long as they are not related (the same degrees of relationship which prevent marriage). In almost all aspects Civil Partnerships confer the same legal benefits and responsibilities as marriage. The one crucial difference however is that the Act makes no assumption that a Civil Partnership will be sexual in nature (and indeed there had been some debate as to what technically might constitute "consummation" in such a relationship). As we will see shortly, this difference to the understanding of marriage has been crucial in the Church of England's response to Civil Partnerships.
The English House of Bishops produced a pastoral statement to respond to this change in the law. The key parts of that statement were:
A recognition that since Civil Partnerships were not intrinsically sexual, clergy could enter into one provided they gave assurances to their Bishop that their relationship was not sexual.
Since a Civil Partnership could be sexual and since the doctrine of the Church of England was that sex belonged within the marriage of a man and a woman, clergy were not permitted to bless Civil Partnerships. Appropriate pastoral responses could be made (see for example this sample order of service which it is argued is acceptable) but as might be expected this is a matter of contention.
The Current Marriage / Civil Partnership Law in England
It is important to realise that the United Kingdom is actually made up of four countries – England, Northern Ireland, Scotland and Wales. England and Wales for the large part share the same legal system. Scotland and Northern Ireland have different legal systems which although similar, have some differences.
In England and Wales marriages can be solemnized by a Church of England (or Church in Wales) priest or deacon (deacons have a legal entitlement to marry but most Bishops do not permit their deacons to do so as a marriage involves a blessing), a Quaker officiant, a Jewish Rabbi (Quakers and Jews have particular forms of marriage that are formally recognised by English and Welsh law), some other authorised person in a religious building or a state registrar. This means that if you want to get married in a non-denominational church often you must either first have a civil marriage or have a registrar present at the marriage in the church.
If you have a marriage in a non-religious building you cannot have any religious content in the ceremony.
English and Welsh law recognises marriage in the Church of England (or Wales) as being an alternative form of marriage governed by Canon Law whereas civil marriage (including Quaker, Jewish and other religious marriages) are covered by Civil and Common Law.
In Scotland marriages can be solemnized by a minister of the Church of Scotland (this is the Presbyterian Church which is the state church, not the Episcopal Church of Scotland), a clergy person of another religion that is recognised by the Scottish Office (the government department responsible for Scotland) or a state registrar. Unlike England and Wales, Scotland does not recognise marriage in the state church as a separate way of getting married subject to its own laws.
In Northern Ireland marriages can be solemnized in the Church of Ireland (Anglican), most of the Presbyterian Churches, the Roman Catholic Church, a synagogue or a Quaker meeting house. Other religious groups tend to get a civil marriage done before a religious ceremony.
Civil Partnerships can be registered in England and Wales, Scotland and Northern Ireland. There are separate sections of the Act of Parliament covering the three different legal territories, but to all intents and purposes the law is the same. The only place you can register a Civil Partnership is in a registry office or in a non-religious building that is registered to have Civil Partnerships and Marriages. You cannot have any religious content during the ceremony.
The Proposed Changes
The proposed changes are only for England and Wales. The proposal is that religious buildings will be allowed to register to permit a Civil Partnership ceremony to take place. There would also be a lifting of the ban on religious language in a Civil Partnership ceremony (and in civil marriages). The change would be permissive rather than prescriptive, meaning that churches and other religious buildings would need to opt into these changes rather than opt out of them. A church would not be forced to host a Civil Partnership, but many organizations (like the Quakers, Unitarians and Liberal Jews) would welcome such an opportunity.
Possible Problems for the Church of England
It is very clear that the Church of England will continue to forbid their clergy to bless civil partnerships. However despite this, a number of issues are still to be sorted out.
Large numbers of English vicars and rectors have what is called "Freehold". They hold the local parish property in trust for the parish and are de facto owners of the church they minister at. It is unclear whether a Bishop would have the legal authority to prevent a freeholder registering his church as a place where Civil Partnerships can be celebrated.
If a freeholder manages to successfully register an Anglican church as a place where Civil Partnerships can be celebrated, a registrar could then be invited to conduct the ceremony (which could be combined with a service similar to the one above). The freeholder would not be conducting the ceremony but such a ceremony would still take place in the church. It is unclear whether the Bishop would be able to discipline his priest in these circumstances.
A Church of England priest who is also a Civil Partnerships registrar (for example, a non-stipendiary clergyman working for his local council) may be able to lead such a ceremony in a religious building (whether Church of England or otherwise) that has religious components within it (including, crucially, a blessing). It is unclear whether the Bishop would be able to discipline his priest in these circumstances.
There is a concern that the changes in the law may move from being permissive to being prescriptive (i.e. in a few years time it may become an offence to refuse to host a Civil Partnership ceremony in a church if you are willing to host marriages).
Because of these issues it is likely that the Church of England will seek clarification from the Government as to what the implications of the proposed changes will be and in particular to address these and other issues directly in the legislation.
Summary
Remember, these are proposed changes and are not yet law or even beginning to pass through the British Parliament. However, if they happen then as we have seen above there are a number of issues for the Church of England which it will seek for the government to clarify.
Some have argued that this is one more step along the road towards permitting gay marriage, but such a move, given that the English Marriage Act of 1949 officially recognises the liturgy of the Book of Common Prayer as the way that marriage is enacted in the Church of England, would require either disestablishment of the church or a substantive change to the Prayer Book in order to happen.