Martin Bashir on Rob Bell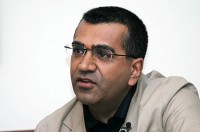 As a follow-up to his interview on MSNBC of Rob Bell, Martin Bashir was himself interviewed on the Paul Edwards programme about that interview. Awesome listening as Bashir demonstrates how Bell consistently misquotes and takes out of context key sections of his argument.
It is an excellent interview which also reveals Bashir's deep faith in Jesus.
For those who missed the original interview of Rob Bell by Bashir, here it is.
Update
This is the full interview with Lisa Miller at the official launch.