Review – Sexual Healing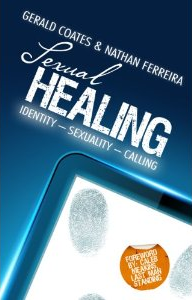 Shhhh. There's a word that you don't often hear mentioned in Christian circles. To even utter its syllables can lead to frowns, circumspection and a point blank refusal to invite you to come and speak again (trust me on this one). What's the word?
Masturbation.
There, I said it. You now know that this blog is a hot-bed of controversy and "stuff that we really shouldn't talk about because nice people don't do that". Like voting Labour. Anyway, the fact that most of you can't remember the last time you heard a sermon in church on masturbation (there, I said it again) is the reason why Sexual Healing exists. In it, Nathan Ferreira and Gerald Coates (he of Pioneer) spell out the problem we have today with internet porn and our response to it.
And what a problem it is. Ferreira weaves his own experiences of being trapped by and then released from the bind of pornography and the life of masturbation (there it is again) that accompanies it with the well established pastoral insights of Coates from his decades of church leadership. The result is an easy to read book that takes no prisoners on the subject and provides a useful blend of personal testimonies and practical advice.
In the USA they have porn and pancakes tours going around churches talking about this issue. Here in the UK Coates and Ferreira are going around the country talking about this issue with the openness and honesty that is required to not just get us engaging with the issue but also to give permission to those who struggle in this area to share their own turmoil. In that sense this book is a welcome addition to the bookshelf of anyone for whom this is a personal issue (you know who you are reading this) or those who want to help those caught by pornography.
Do Buy if… you want an orthodox but honest approach to the issue of pornography
Don't Buy if…Â you sign your letters "Disgusted of Tunbridge Wells"
8 out of 10
[amazon_enhanced asin="1905991827″ container="" container_class="" price="All" background_color="FFFFFF" link_color="000000″ text_color="0000FF" /]