More on Jersey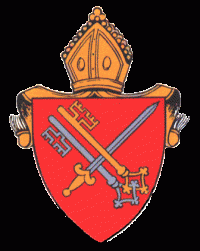 I've spoken to sources inside Winchester Diocese who have helped to clarify one or two matters re the story below.
I can confirm that the Diocese of Winchester took legal advice from a senior QC with experience not only of English ecclesiastical law but also Jersey law before moving to suspend the Dean of Jersey. The line from the Diocese is that although the Letters Patent are issued by the Queen, once they have been issued the Dean is then a priest like any other under the jurisdiction of the Bishop of Winchester (as are all clergy in Jersey for that matter). It was intimated to me that the situation is not dissimilar to that of a Cathedral – there is a great degree of independent action, but ultimately the Dean is responsible and accountable to the Bishop.
In the Diocese's opinion the Dean's ongoing authority to act in his office comes from his relationship with the Bishop, not the monarch. The Bishop (and the Archbishop by implication as he has endorsed Bishop Tim Dakin's actions) would therefore not have acted in the manner he did unless he was first convinced that he had the ability and authority to do so. My source went as far as to say that "We are an episcopal church and we are episcopally led. There is no doubt that the Dean of Jersey has a Bishop to whom he is accountable to".
There therefore appears to be a conflict of legal opinion between Jersey and Winchester which stems from the desire of the States to maintain as much independence as possible. As the Dean himself wrote in 2010Â when offering an opinion on the power and independence of the Jersey States,
I am usually quite a passionate proponent of change in many areas of life, including the Church! However in the case of your lordship's review I submit that some minor tweaks may be in order but that the basic system that has served the Island well and gently evolved over centuries be left in place. As I have come to realise in my ministry here, this is not the people's republic of a small island off the French coast. It is Jersey; fiercely loyal the Crown and fiercely independent in its thinking and practice.
What appears to those on the mainland of England as a simple matter of the Bishop of a Diocese exercising his canonical duty of care over his clergy is being interpreted by some on the island of Jersey as an attack on the very way that the States operates as a "fiercely independent" jurisdiction under the Monarch. As the Bishop of Basingstoke meets the Clergy Chapter this morning (Tim Dakin the Bishop of Winchester has been delayed by the snow in Southampton), we should pray that a disagreement between friends and colleagues remains just that and does not spill over into a major constitutional crisis in Jersey.